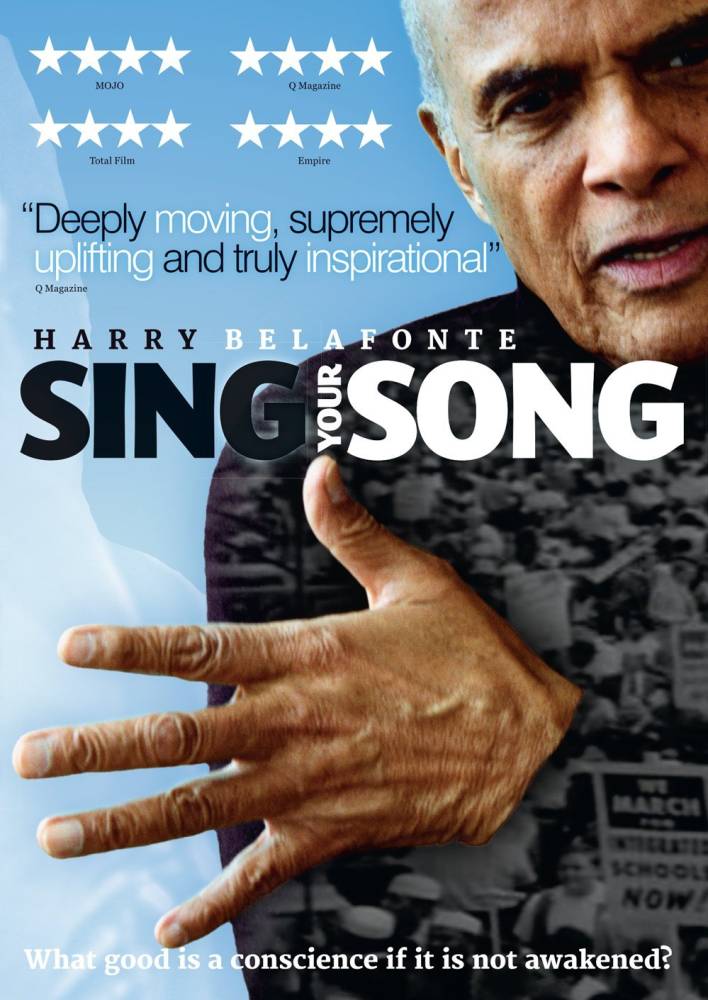 Watch the definitive Harry Belafonte documentary film
Sing Your Song here



Harry Belafonte
Actor, singer, and activist Harry Belafonte achieved lasting fame for songs such as "The Banana Boat Song (Day-O)," as well as for his humanitarian work.



By Biography.Com Editors
Who Was Harry Belafonte?
Harry Belafonte struggled with poverty and turbulent family life as a child. His professional career took off with the musical Carmen Jones, and soon, he was burning up the charts with hits like "The Banana Boat Song (Day-O)" and "Jump in the Line." Belafonte also championed many social and political causes and earned prestigious accolades such as the National Medal of Arts, one Tony Award, one Emmy Award, and two Grammy Awards. He died April 25, 2023 at age 96.

Quick Facts
FULL NAME: Harold George Belafonte Jr.
BORN: March 1, 1927
DIED: April 25, 2023
BIRTHPLACE: New York, New York
SPOUSES: Marguerite Byrd (1948-1957), Julie Robinson (1957-2004), and Pamela Frank (2008-2023)
CHILDREN: Adrienne, Shari, Gina, and David
ASTROLOGICAL SIGN: Pisces

Harold George Belafonte Jr. was born on March 1, 1927, in New York City to Caribbean immigrants. His mother worked as a dressmaker and a house cleaner, and his father served as a cook on merchant ships, before leaving the family when Belafonte was a young boy.
Belafonte also spent much of his early years in Jamaica, his mother's native country. There, he saw firsthand the oppression of Black people by the English authorities, which left a lasting impression on him.
Belafonte returned to New York City's Harlem neighborhood in 1940 to live with his mother. They struggled in poverty, and Belafonte was often cared for by others while his mother worked. "The most difficult time in my life was when I was a kid," he later told People magazine. "My mother gave me affection, but because I was left on my own, also a lot of anguish."

Early
Dropping out of high school, Belafonte enlisted in the U.S. Navy in 1944. He returned to New York City after his discharge and was working as a janitor's assistant when he first attended a production at the American Negro Theater (AMT). Mesmerized by the performance, the young Navy vet volunteered to work for the AMT as a stagehand, eventually deciding to become an actor.
Belafonte studied drama at the Dramatic Workshop run by Erwin Piscator, where his classmates included Marlon Brando, Walter Matthau, and Bea Arthur. Along with appearing in AMT productions, he caught the eye of music agent Monte Kay, who offered Belafonte the opportunity to perform at a jazz club called the Royal Roost. Backed by such talented musicians as Charlie Parker and Miles Davis, Belafonte became a popular act at the club. In 1949, he landed his first recording deal.
By the early 1950s, Belafonte had dropped popular music from his repertoire in favor of folk. He became an avid student of traditional folk songs from around the world and performed in New York City clubs, such as the Village Vanguard.

Movies
During this time, Belafonte was finding success as an actor: Debuting on Broadway in 1953, he won a Tony Award the following year for his work in John Murray Anderson's Almanac, in which he performed several of his own songs. Belafonte also appeared in another well-received musical revue, 3 for Tonight, in 1955.
Around this time, Belafonte launched his film career. He played a school principal opposite Dorothy Dandridge in his first movie, Bright Road (1953). The pair reunited the following year for Otto Preminger's Carmen Jones, a film adaptation of the Broadway musical (itself an adaptation of the Georges Bizet opera Carmen), with Belafonte starring as Joe alongside the Oscar-nominated Dandridge.

Music
The success of Carmen Jones in 1954 made Belafonte a star, and soon, he became a music sensation. With RCA Victor Records, he released Calypso (1956), an album featuring his take on traditional Caribbean folk music. "The Banana Boat Song (Day-O)" proved to be a huge hit. More than just a popular tune, it also held special meaning for Belafonte: "That song is a way of life," Belafonte later told The New York Times. "It's a song about my father, my mother, my uncles, the men and women who toil in the banana fields, the cane fields of Jamaica."
Introducing America to a new genre of music, Calypso became the first full-length album to sell 1 million copies and led to Belafonte being nicknamed the "King of Calypso." The singer also worked with other folk artists, including Bob Dylan and Odetta, with whom he recorded a version of the traditional children's song "There's a Hole in My Bucket." In 1961, Belafonte had another big hit with "Jump in the Line."
Belafonte was the first Black person to win an Emmy, for Revlon Revue: Tonight with Belafonte (1959) and the first Black television producer. In 1970, he teamed up with singer Lena Horne for a one-hour TV special that showcased their talents. Belafonte continued to release albums into the 1970s, though his output slowed by the middle of the decade.

Social and Political Activism
Always outspoken, Belafonte found inspiration for his activism from such figures as singer Paul Robeson and scholar and activist W.E.B. Du Bois. After he met civil rights leader Martin Luther King Jr. in the 1950s, the two became good friends, and Belafonte emerged as a strong voice for the movement. He provided financial backing for the Student Nonviolent Coordinating Committee and participated in numerous rallies and protests. Belafonte helped organize the 1963 March on Washington, in which King delivered his famous "I Have a Dream" speech, and again met with the civil rights leader shortly before King was assassinated in 1968.
During the mid-1960s, Belafonte also began supporting new African artists. He first met exiled South African artist Miriam Makeba, known as "Mama Africa," in London in 1958, and together, they won a Grammy for Best Folk Recording for their 1965 album, An Evening with Belafonte/Makeba. He helped introduce her to international audiences and called attention to life under apartheid in South Africa.
In the 1980s, Belafonte led an effort to help people in Africa. He came up with the idea of recording a song with other celebrities, which would be sold to raise funds to provide famine relief in Ethiopia. Written by Michael Jackson and Lionel Richie, "We Are the World" featured vocals by such music greats as Ray Charles, Diana Ross, and Bruce Springsteen. The song was released in 1985, raising millions of dollars and becoming an international hit.
Over the years, Belafonte supported many other causes as well. In addition to his role as a goodwill ambassador for UNICEF, he campaigned to end the practice of apartheid in South Africa and spoke out against U.S. military actions in Iraq.
Belafonte sometimes landed in hot water for his candidly expressed opinions. In 2006, he made headlines when he referred to President George W. Bush as "the greatest terrorist in the world" for launching the war in Iraq. He also insulted two prominent Black members of the Bush administration, General Colin Powell and Condoleeza Rice, referring to them as "house slaves." Despite media pressure, he steadfastly refused to apologize for his remarks. In regards to Powell and Rice, Belafonte said they were "serving those who continue to design our oppression."

Awards
Belafonte achieved some of the highest honors possible over more than a half-century in the public eye. He was a recipient of Kennedy Center Honors in 1989, the National Medal of Arts in 1994, and a Grammy Lifetime Achievement Award in 2000. Additionally, in 2014, he received the Jean Hersholt Humanitarian Award at the Academy of Motion Picture Arts and Sciences' Governors Awards.
He was nominated for seven Emmys, 10 Grammys, and one Tony, winning four of the awards:
Emmy Award for Outstanding Performance in a Variety or Musical Program or Series in 1960

Grammy Award for Best Folk Performance in 1960

Grammy Award for Best Folk Recording in 1965

Tony Award for Best Actor in a Musical in 1954

Personal Life and Death
Belafonte was married three times and had four children.
His marriage to his first wife, Marguerite Byrd, lasted from 1948 until 1957. The couple had two children, Adrienne and Shari.
Belafonte didn't wait to get remarried. He wed dancer Julie Robinson in 1957, and they also had two children together, Gina and David. Belafonte and Robinson divorced in 2004.
In 2008, Belafonte married his third wife, photographer Pamela Frank. The couple lived together in New York City, and Frank had two children prior to their marriage.
On April 25, 2023, Belafonte died at age 96 at his Manhattan home. His spokesperson said the cause of death was congestive heart failure.

Quotes
Art. There's nothing more powerful in the universe than it, because it is the recorder of the truth.



That song is a way of life. It's a song about my father, my mother, my uncles, the men and women who toil in the banana fields, the cane fields of Jamaica.
Courtesy of: https://www.biography.com/musicians/harry-belafonte